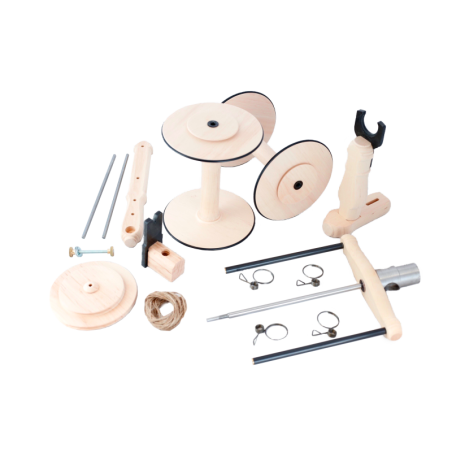  
Kromski Minstrel Great Flyer Set
VAT included
Delay approx. 3 weeks
The Great Flyer allows to spin very thick art yarn, with its 27 mm orifice and the huge capacity of the great bobbins.
Secure paiment provided by Mollie, fully PCI-DSS compliant
We don't store your credit card information
Fast and secure delivery
Satisfied or reimbursed
(see detailed terms)
The 27 mm orifice (compared to 10 mm  standard size), its super-high capacity bobbins in combination with the extra-slow great whorls (ratios 3,5:1 et 4,8:1) will transform your Minstrel into the wheel to spin fantasy and art yarns par excellence!
You can also spin fine yarn on this flyer, and produce an enourmous length of yarn without changing the bobbin.
Included in the set :
the Great Flyer
2 great bobbins
flyer support front and rear
4 clip-on thread guides
lazy-kate for 2 great bobbins, as replacement for the standard lazy-kate
extra slow great whorl (ratios 3,5:1 et 4,8:1) 
No customer reviews for the moment.